2010'05.05.Wed
my may magazines came in the mail today!! (:
seventeen and cutie! i skipped april issues of both 'cause a friend had + didn't like the cover for cutie lol. i'm getting these like 2 weeks after they are released but i don't really mind since it's not like i'll be behind in fashion trends.. in fact i'm probably like half a year ahead of north american trends hhaha. suddenly i feel like dropping 17 for popteen or popsister thoughh..
they came with gifts. cutie came with a HbG pencil case, the material feels nice and the charm that comes with is cute. (: i love HbG's mascot. 17 came with a cecil mcbee tote. i like cecil mcbee but not this tote so much... the letters are too sparkly. :(
love the feature in cutie on 'best kisses', they had twilight and gossip girl which.. uhm. stuck out. but they also had koukou debut which totally made my day!!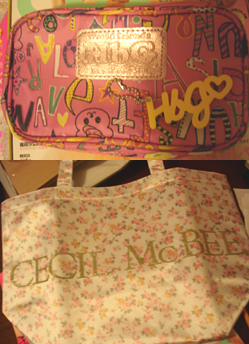 ••••••••••••••••••••••••
we had an art field trip to the zoo today! haven't been there in forever, was sooo excited. but i have to say, during the day... my excitement level went down about 90% 'cause i'm so unfit and i get tired too easily from walking around. i was so loud and jumpy at first, but had almost no will to go see the polar bears. :( in fact, we missed the snowy owls and a lot of others. no one in our class ended up drawing the animals 'cause they're moving. so we took pictures hha.
i love how they had peacocks freely roaming around. friends and i got to a dead end but we found a peacock just standing on the fence. its call sounds like kevin from the movie up, so CUTE.
hm hippos are larger than i imagined. we got to see it taking a dump in the river, great!
also i found it funny that someone would do this at a zoo LOL.