2010'07.29.Thu
i watched inception it was really REALLY good. i didn't think it was amazing when i watched it but now that i think about it, it kinda was. i did find one loophole which was a disappointment. :(
so i saw the movie with my friend who came back from china.. she brought me a giant bag of stuff LOL. so i guess i'll shareeeeee.
this ULTRA cute rilakkuma contact case. i think i'm a jinx 'cause i break everything i touch, the case top broke. ;_; also these super cute post-it notes.
cute fan from korea and bear charm (i have SO MANY BEAR STUFF v v)
bunch of animu magazines and comics that come with a DVD, pens and a rilakkuma foldable cup. i think the cup leaks though LOL.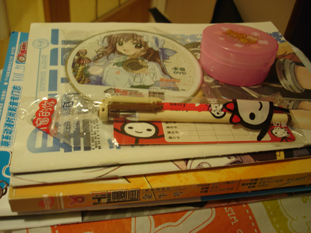 a pic we took together at the theatre. :D and the usamimi she bought me, it's adorable but was so hard to put on haha.
then we went to eat korean food and everyone thought we were korean yet again. i took pictures, but after we ate so it wouldn't look very apetizing anyways LOL. :D
SUMMER SCHOOL IS OFFICIALLY OVER I'M HAPPY.
tomorrow is report-card pick-up, meaning i'll get in some trouble for getting a low mark but after that, finally.. REAL SUMMER.. !
music:
mosaik role by megupoid